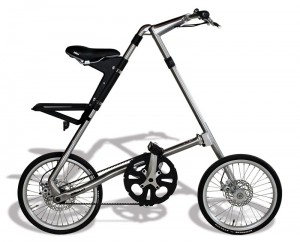 STRiDA SX Folding Bike
The SX: The addition of thinner, larger 18″ tires allows for faster and smoother cruising, more stability, and greater responsiveness. Extended handlebars create more leg room for taller riders.
The first completely new bicycle geometry in 95 years. Inside a triangular frame of lightweight aluminum, power is transferred to the rear wheel via a silent clean Kevlar belt. Handlebars are mounted horizontally so the rider can sit comfortably upright with an excellent view of the road. The genius of the triangular frame is that it can quickly fold. In five seconds, you have a light, compact form that you can easily wheel, stow in a closet, load in your car or take on the train. Folds and Unfolds in 5 Seconds.
$1049.99
Order A STRiDA SX
Contact me directly if you'd like to order an SX.
Specifications
Bike Weight: 22 lbs (10 kg)
Frame: 7000 Series Powder-Coated Rustproof Aluminum
Drive Train: Kevlar Greaseless Belt Drive
Wheels: Alloy 18″ Rustproof (46 cm)
Brakes: Cable Disc Brakes
Speeds: Single Speed – 60 Gear Inches
Folded Size: 45″ x 20″ x 9″ (114cm x 51cm x 23cm)
Extras: Kickstand
Luggage Rack: Alloy Pannier Rack with straps.  Holds 22 lbs (10 kg)
Weight Limit: 220 lbs (100 kg)
Height Limit: 5'4″ – 6'4″ (163cm – 193cm)
Unlike other folding bikes, STRiDA has…
A comfortable, upright riding position with superb visibility.
The ability to roll when folded.
The smallest footprint of any full-sized folder.
No gears to worry about.
Just pedal and go.
The easiest fold.
No need to think about complex sequences.
A convenient umbrella shape when folded.
A clean, quiet belt with no oily chain or gears.
A  large, distinctive triangular frame as the dominant visual.
One-sided wheel mounting for easy tire and tube changes.
In bike mode, it takes up much less space than most bikes. Pedestrians will thank you.
In folded mode, it takes up next to no space with the ability to prop up vertically.