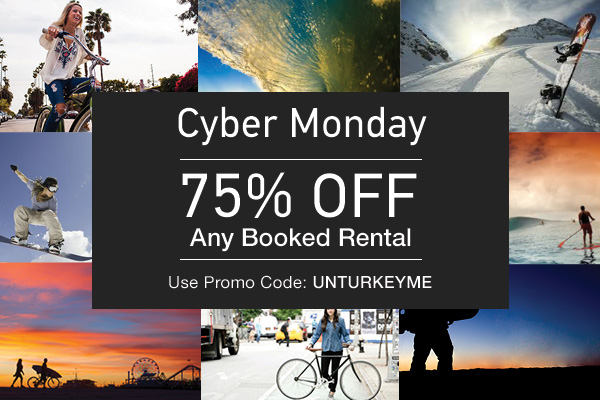 Since STRiDA Folding bikes are so different from other bicycles, one of the biggest requests I receive is to test ride a bike before purchasing. I have teamed up with Spinlister.com to offer both a STRiDA EVO 3 Speed as well as a STRiDA LT for rentals from a couple hours to days at a time.
If you're interested in renting a STRiDA Folding Bike, here's a chance to save a lot of money and discover the joy of riding a STRiDA. Spinlister is offering a 75% discount on bike rentals for Cyber Monday. From Spinlister:
75% OFF All Week for Cyber Monday

To celebrate Cyber Monday this week we're giving 75% OFF all reservations booked on Spinlister using promo code UNTURKEYME. Dates for the reservation do not matter. There is no minimum purchase necessary. Simply complete the booking for a rental on any future date and get 75% OFF! Reservation booking must be complete by December 7th, 2014.